Sno-Gun II TM
Removes Contaminants as Small as 0.1 Micron from Critical Surfaces
The Sno-Gun
Now CE approved
The Sno-Gun is an effective way to remove particle and light hydrocarbon contamination from hybrid circuits, fiber optics, mirrors, silicon wafers, disk drive assemblies, flat panel display substrates, metal and plastic parts, medical instruments, and many other components that require precision cleaning. The Sno-Gun cleans light hydrocarbons and removes particles as small as 0.1 micron!
The Sno-Gun; is available in both hand held and automatic configurations. The SG-2 hand held Sno-Gun makes precision cleaning easy. Just connect to a tank of high purity liquid CO2 and start cleaning. The Sno-Gun is shipped in a padded carrying and storage case. Each Sno-Gun is provided with interchangeable nozzles allowing for nine combinations of spray patterns and aggressiveness. All nozzles can be interchanged without the use of tools. The integral .5 micron filter in the valve further controls particles. The complete Sno-Gun package includes a 10 ft. Teflon™ lined stainless steel braided hose, and spare 0.5 micron filter element, and spare seals. All wetted parts are Stainless Steel or virgin Teflon™.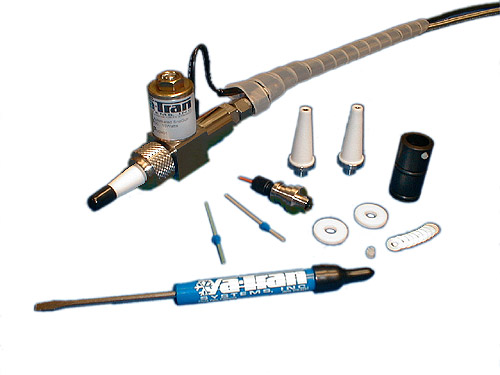 Automated Sno-Gun TM

The SG-2A-24DC is a 24 VDC solenoid-controlled version of the Sno-Gun. This allows for precise control of the "on" and "off" times and provides for repeatability in your cleaning process. This compact model can be easily mounted on a fixture or attached to a robotic arm for automated cleaning.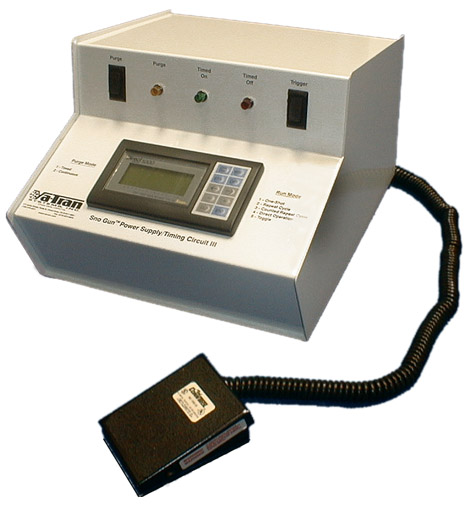 SG-PST-III - Power Supply - Timing Circuit for Sno-Gun
The SG-PST-III PLC Timing Module is a programmable 24VDC power supply for controlling the SG-2A-24DC Automatic Sno-Gun. This unit is easily programmed for precise "on" and "off" times allowing for exact repeatability of your cleaning process. The SG-PST-III PLC Timing Module includes a foot pedal for remote actuation of the timing functions and also allows for manual operation.