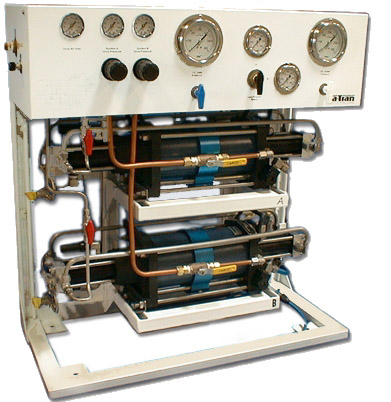 SG-VPB-100-R Non-contaminating
Redundant CO2 Pressure Boosting Pump
Va-Tran SG-VPB Non-Contaminating Air Driven
Carbon Dioxide Vapor Boosting Systems
For CO2 requirements that call for high pressure when supply sources are at low pressure.Va-Tran designs and manufactures systems to boost CO2 pressure from 50 PSI to 2,500 PSI or more.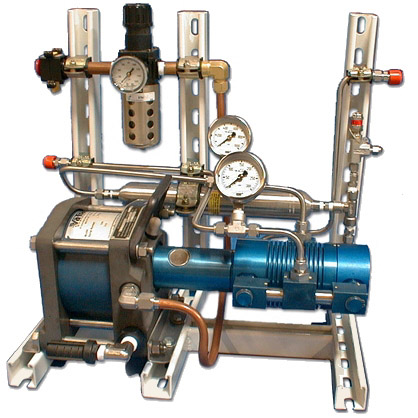 Va-Tran Systems SG-VPB-004 High Volume
Non-Contaminating CO2 Supply Pump
Va-Tran booster systems provide a continuous flow of CO2 vapor to Va-Tran CO2 Purifiers without contaminating the CO2. They are designed for continuous duty when supplied with 50-PSI (or more) vapor pressure and a compressed air drive.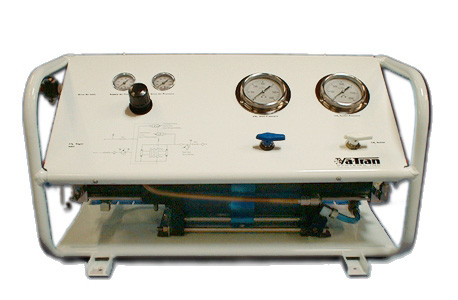 Va-Tran Systems SG-VPB-100
Non-Contaminating CO2 Pressure Boosting Pump
The Va-Tran pressure boosting system (SG-VPB) employs adjustable pressure limiting controls. Systems include automatic shut-off at minimum supply pressures, automatic shut-off at maximum supply pressures (adjustable range), relief valve, outlet filter, inlet air drive controls and instrumentation. All of these features are incorporated in a compact installation package that is designed for ease of use and ease of access for maintenance.
Va-Tran Systems has extensive experience in the design and fabrication
of custom systems to meet special requirements.
For more information call:
800-DRY-ICE1 (800-379-4231).